Struggling to stay safe on the road? Want to ensure your car is running as efficiently as possible? You need to learn how to use a tire pressure gauge.
This guide will teach you how to check your tires and how to interpret the readings. Knowing the right tire pressure can keep you safe, save you money, and help your car run better for longer.
It is important to maintain proper tire pressure in your vehicle because it has a direct impact on your vehicle's fuel economy, traction, and braking. Tire pressure gauges are used to measure the air pressure inside tires. They come in two different types, digital and analog. Each type has its own advantages and disadvantages depending on your needs.
By following these instructions you will learn how to properly use a tire pressure gauge and make sure your vehicles' tires are inflated correctly.
Steps to Using a Tire Pressure Gauge
The specific steps to use a tire pressure gauge may vary depending on the type of gauge you are using, but the basics remain the same. Here's a step-by-step guide to help you use your tire pressure gauge correctly.
Remove the valve cap from one of your tires and unscrew it completely. This will expose the valve body where your tire pressure gauge will fit into.

Place the nozzle of your tire pressure gauge over the airflow port or valve body and press firmly until you hear a hissing sound — this indicates that air is being released from your tire in order to get an accurate reading using the pressure gauge.

You may have to press down multiple times in order for air to be released and for a pressure reading to show up on most digital gauges; some analog gauges, however, may give an instantaneous reading as soon as you place them against the valve body port on your tire.

Pay attention carefully to what kind of units are displayed when checking your tires with a pressure gauge — either PSI (pounds per square inch) or BAR (bars). Be sure you understand which unit is being used by your vehicle manufacturer before testing with a tire gauge so that you can adjust accordingly if needed (for example, if you're car tires need 35 PSI but your tire gauge reads in BAR units, then you'll need 70 BARs.)

You can find out what type of units are recommended for each specific vehicle model by consulting their user's manual or by looking at its door panel sticker that should list recommended pressures for all four tires (or axle). Once you've obtained accurate readings using your trusty tire pressure gauge, it's just a matter of adjusting accordingly should it be necessary – simply add more air or release excess air until reaching optimal levels according to each vehicle's specifications and recommendations set forth by its manufacturer!
Step 1: Identify the recommended tire pressure
Before you use a tire pressure gauge, it is important to locate and identify the recommended pressure for your vehicle. This can usually be found on a label or placard located within the driver's side door jamb or the fuel filler neck. The label or placard will state the correct PSI (Pressure per Square Inch) for both front and rear tires.
You should also find recommended cold tire inflation air pressure for the spare tire. Note that each tire should display maximum air pressure written on its sidewall, and you should never exceed this amount when inflating your tires.
Step 2: Remove the valve cap
The next step towards using the tire pressure gauge is to remove the valve cap from your vehicle's tire valve stem. This is located on the wheel rim and should have a small wheel-shaped cap on it. Unscrew the cap counterclockwise and take it off. To avoid losing track of where this goes, turn it upside down and place it to one side as you will need to return this when you are finished.
Make sure that the dust caps are clean while they are removed, as any dirt or debris stuck inside can reduce the chances that you get an accurate air pressure reading.
Step 3: Press the gauge onto the valve stem
When the tip of the tire pressure gauge is firmly attached to the tire's valve stem and air has stopped escaping, a dial or digital screen will display the pressure reading. In some gauges a needle will move around within a range that indicates high, low and correct air pressure.
It is important to note what type of unit measurement the gauge is in and to always take readings with a gauge that matches your tire's unit of measure. The increments for most tire gauges are very small so it can be helpful to round off readings to either even numbers or numbers ending in 5 (35, 40).
When using an analog dial gauge remember that you still need to read values past zero after finishing taking your pressure reading.
Step 4: Read the gauge
Once you have the gauge screwed into the valve stem, take a good look at the face. It will usually consist of red or yellow markings indicating higher pressure and blue or green markings indicating lower pressure.
Check your vehicle's manual to figure out what the ideal tire pressure should be and make sure that you set your tire pressure according to its recommendation. With a reading in hand, compare it with what your car's ideal setting should be and take action accordingly – either adding or releasing pressure until you reach a suitable level.
Make sure to check all four tires since discrepancies between one tire and another is common. Finally, note your results so you can have them on record for future reference.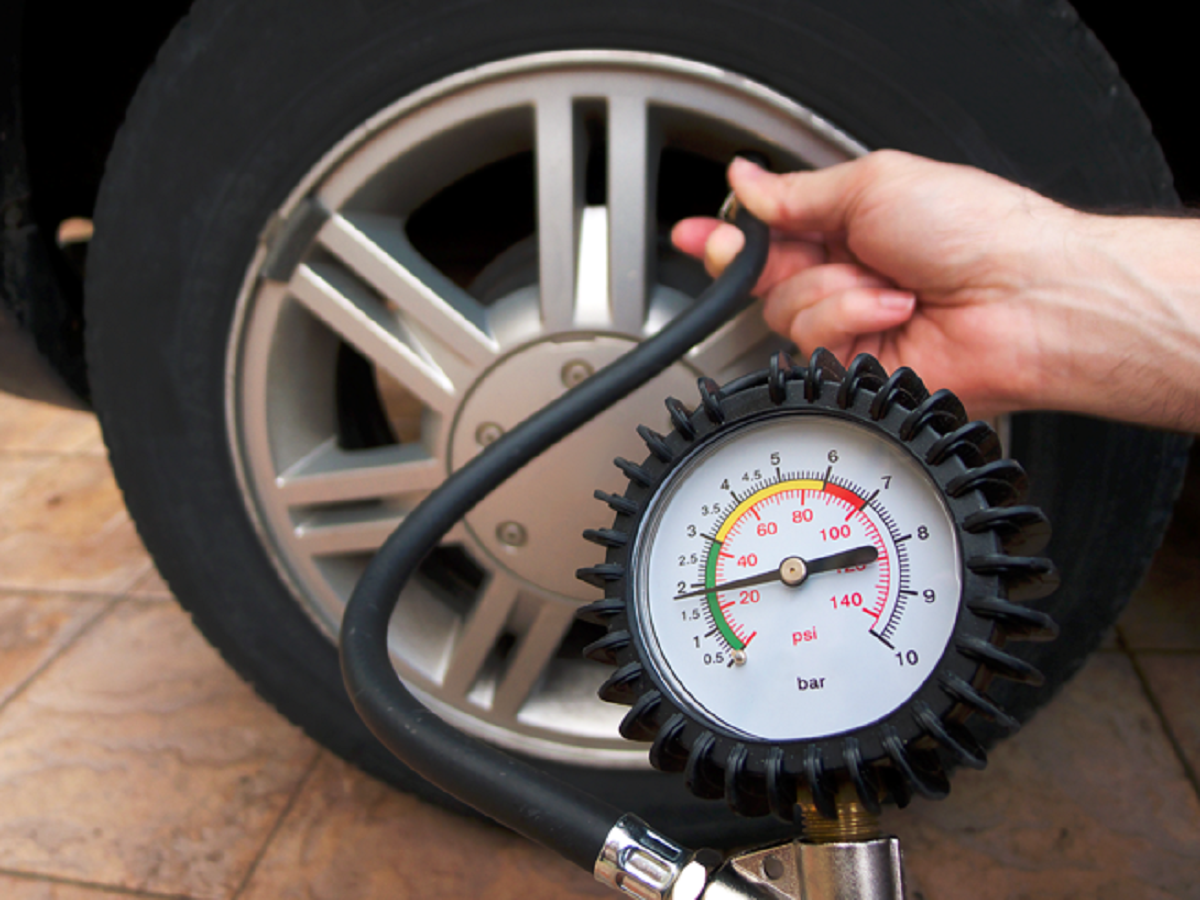 Tips for Using a Tire Pressure Gauge
When using a tire pressure gauge, it is important to follow the steps below in order to ensure that you are taking accurate readings:
Step 1: Clean dirt, dust and other debris from around the valve stem on the tire. This will allow for an easier connection between the tire and the gauge when checking pressure.
Step 2: Ensure that the tire valve is open. You can do this by gently unscrewing (counterclockwise) the valve cap or core. Be careful not to force it too hard as you could cause damage to the valve stem.
Step 3: Choose a tire pressure gauge that is suited for your tires. Some gauges are digital and some are analog (dial or needle type). Make sure you pick one with a rating range that suits your tires, otherwise it won't be accurate when reading pressure.
Step 4: Connect the gauge to your tire's valve stem and press firmly but gently so there's no air leakage while taking a reading. The reading should only take a few seconds; if it takes longer than this then you may have an inaccurate reading due to air leakage causing fluctuations in pressure while being read.
Step 5: Check your manufacturer's instructions to ensure that you match their recommended tyre pressures before adjusting accordingly and re-checking with the gauge after making any adjustments needed if necessary. Follow these steps and enjoy improved tyre performance, as well as improved fuel efficiency!
Check tire pressure regularly
It's important to check tire pressure regularly because tires naturally lose air over time. The exact amount of air you should add to your tires will depend on the type of tire, make and model of the vehicle, and manufacturer's recommendations. Incorrectly inflated tires can be dangerous and cause your vehicle to wear more quickly, so it's important to make sure that you always follow the manufacturer's guidelines.
To get an accurate tire pressure reading, you need to use a good quality tire pressure gauge. Generally speaking, digital gauges are more accurate than analog-style gauges because they offer superior precision and don't require as much effort or guesswork when taking readings. With a quality gauge in hand, follow these steps for accurately checking your car's tire pressures:
Make sure the tires are fully sealed onto the rims before measuring pressure –any leakage could distort readings.

Place the head of the gauge on the valve stem of each tire and keep it firmly in place for several seconds until you hear a hissing noise—this releases any remaining air trapped inside the valve stem that could affect accuracy readings.

Take your reading—you should take three separate readings per tire if possible, using a few seconds' delay between readings to ensure accuracy—and write down each result so you don't forget it! Compare each result against those recommended by your car manufacturer—for most vehicles this will be around 32–36PSI (pounds per square inch). If any reading is significantly lower than recommended levels then inflate accordingly until all results match up with what is stated in your manual or displayed on your vehicle's information center. In addition to periodically checking tyre pressures with a reliable gauge this way also gives you peace of mind that tyres are correctly inflated today safe driving tomorrow.
Use the same gauge every time
When using a tire pressure gauge, it is important to use the same gauge each time as different tools may have inaccurate readings. Pressure gauges tend to lose accuracy over time and wear out, which is why it's important to regularly check and replace them if necessary. Checking your tires with the same pressure gauge on a regular basis will ensure more reliable readings.
When selecting a tire pressure gauge, pick one that has an easy to read scale and make sure that it is the suitable size for your tires; detailed instructions will typically be printed on top of the device.
Check tire pressure when tires are cold
When it comes to checking the tire pressure, the ideal time is when the tires are cold. This means that your car should be parked for at least 3 hours before you check the pressure in your tires.
With each tire, use a tire pressure gauge and press it down onto the valve stem of the tire and then observe what's indicated on its dial or display. You may find that your car's tires need more air than what is originally recommended by car manufacturers, because as time passes, air tends to seep from them as well.
Once you've finished reading each tire's pressure and adding more air when necessary, make sure to replace the valve stem caps. This will help ensure that no further air leaks out of your tires, allowing them to remain at their optimal pressures for longer periods of time.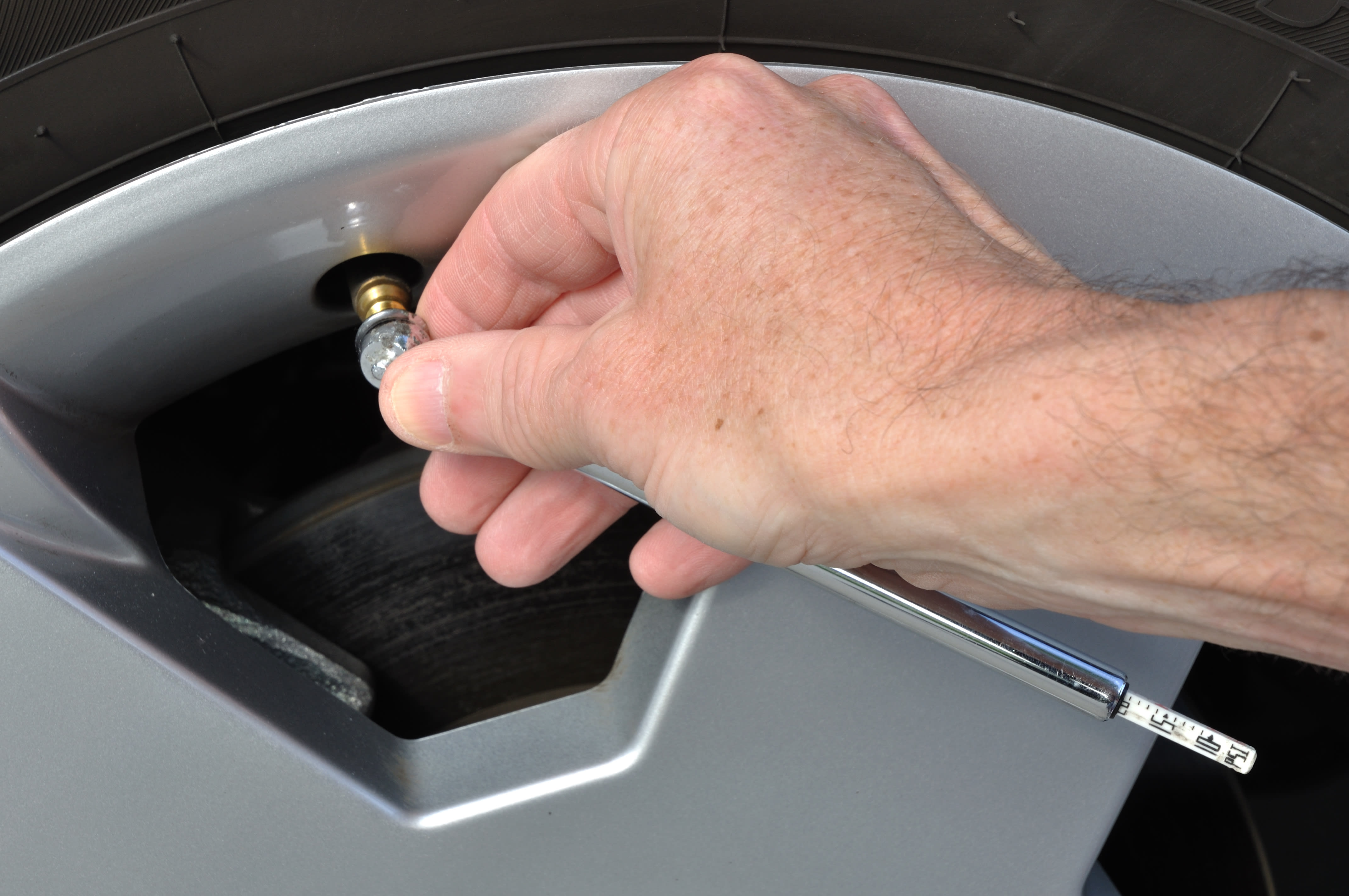 Conclusion
In conclusion, it's important to regularly check your tire pressure to ensure the safety of your vehicle and its passengers. A tire pressure gauge is the easiest way to do this and it can be used with any vehicle. Knowing how much air is in your tires will help you make sure that they are properly inflated and performing at their best.
Remember to always consult your vehicle owner's manual when troubleshooting an issue or making alterations to the car, as well as any local laws or ordinances related to car maintenance.
FAQs
How do you use a basic tire pressure gauge?
Insert the nozzle of the gauge onto the tire valve stem and press down until the gauge reads the tire pressure. Make sure to read the gauge immediately after pressing it onto the valve stem.
How do you use a tire pressure gauge without losing air?
Press the gauge firmly onto the valve stem and make sure it's seated correctly. Hold the gauge steady until you get a reading and then remove it from the valve stem carefully to avoid losing any air.
How do you read a tire gauge accurately?
Make sure the gauge is calibrated properly and then read the measurement on the gauge dial. It's important to read the gauge at eye level and to take the reading as soon as the gauge is removed from the valve stem.
What are the numbers on a tire pressure gauge?
The numbers on a tire pressure gauge indicate the pounds per square inch (PSI) of air pressure in the tire.
How do you read a pressure gauge?
Read the measurement on the gauge dial after taking the reading from the tire valve stem. The measurement will be indicated in PSI.
What PSI should my tire pressure gauge be?
The recommended PSI for your tire pressure will vary depending on the make and model of your vehicle. The recommended PSI is usually found in the owner's manual or on a sticker inside the driver's door jamb.
Is a tire gauge the only way to check tire pressure?
No, other methods of checking tire pressure include using a digital tire pressure gauge, using a pump with an integrated pressure gauge, or going to a gas station with a tire pressure monitoring system.
How hard is it to press a tire pressure gauge?
It should not be too hard to press a tire pressure gauge onto a valve stem. If it's difficult to press, it may be due to a damaged valve stem or a problem with the gauge.
Do tires naturally lose PSI?
Yes, tires can lose PSI naturally over time due to changes in temperature, wear and tear, and even small punctures. Checking tire pressure regularly can help prevent any safety issues from underinflated tires.
What is the most accurate way to measure tire pressure?
Using a calibrated tire pressure gauge is the most accurate way to measure tire pressure. Digital tire pressure gauges can also provide accurate readings.
See also: